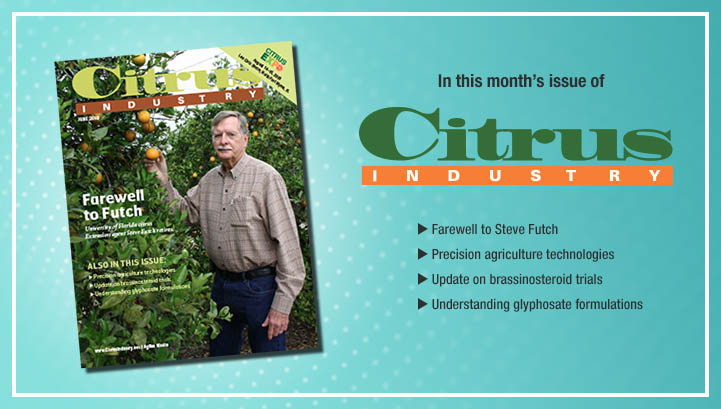 Florida citrus growers will find a very familiar face on the cover of the June issue of Citrus Industry magazine. The University of Florida's Steve Futch is featured for his many years of Extension service to the grower community. There are probably few — if any — citrus growers in the Sunshine State who have not been touched by Futch's work in some way. Whether it's speaking at seminars, coordinating industry events or writing articles, Futch has helped educate growers in countless ways over his 34-year career that he is now retiring from. Find out more about him in the June issue of Citrus Industry magazine.
Also in this edition, University of Florida researchers report on some of the newer tools and technologies available to citrus growers. An article on precision agriculture explores how unmanned aerial vehicles equipped with artificial intelligence can count and categorize trees, locate tree gaps and create data maps. Automated Asian citrus psyllid monitoring is also addressed in this feature.
Another June article provides growers with the latest research findings on the use of brassinosteroids for HLB management. Results of using this type of plant hormone included an earlier blooming date by 10 days, quicker fruit maturation and higher yield.
Finally, a feature on understanding different glyphosate formulations will help growers maximize the use of their weed control products.
Find all these articles and more in the June issue of Citrus Industry magazine, coming soon!
Subscribe to Citrus Industry magazine.