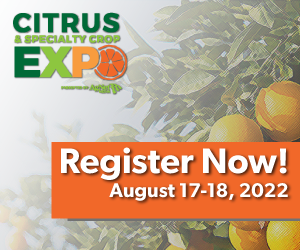 The Citrus & Specialty Crop Expo is set for Aug. 17–18 in North Fort Myers, Florida. The event, held at the Lee Civic Center, will be a flurry of activity as citrus and specialty crop growers come together to learn, network and see the latest tools of the trade in farming.
The latest episode of the All In For Citrus podcast takes a deep dive into what's planned for the 2022 Citrus & Specialty Crop Expo. Tripti Vashisth, University of Florida Institute of Food and Agricultural Sciences (UF/IFAS) associate professor of horticultural sciences, was the point person developing the citrus educational sessions. She said there's a lot on the program that growers will want to see.
Vashisth added there's an emphasis placed on presentations of applied research that can be deployed in growers' groves today. She also said program planners strived to bring new or updated information to growers. An example is Lukasz Stelinski, UF/IFAS professor of entomology and nematology, will be providing new information on Asian citrus psyllid management.
"Dr. Stelinski will provide new information on how much of a role fire ants play in Asian citrus psyllid management," Vashisth said.
She added, that outside of the presentations, scientists will be available during the Citrus & Specialty Crop Expo to visit with growers in person. It will be a great opportunity for growers to ask more specific questions of the researchers on particular needs they have in their groves.
Jamie Burrow, UF/IFAS Extension program manager, joined the podcast to discuss the UF/IFAS citrus booth that will be on display on the trade show floor. It is a large booth with a lot of interactive elements and many take-home educational resources. One of those is a new booklet that summarizes citrus research called Keeping Florida Citrus Growers Informed: A Summary of UF/IFAS Citrus Research. Burrow encouraged growers to stop by the booth and pick up a copy.
About the Author
Frank Giles
Editor-in-Chief, AgNet Media Publications
Sponsored Content